Today is my little man's 6th birthday. Campbell is a fun and quirky guy. He is a diligent hard worker with an upbeat attitude. He is very eager to learn. We all love him a lot and hope his birthday is a special one.
I took him and his best buddy out for lunch at their FAVOURITE restaurant.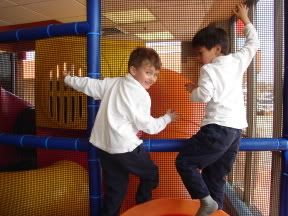 Then they played before going back to school for the afternoon. Tonight we will have a quick dinner before Patrick's tryouts and then we'll have cake when Patrick gets home.