It has been a slow recovery. Thanks for all the get well wishes. I think they must be working.
I've been trying to watch more tv in bed. Here I'm trying to watch
Crash Test Mommy
, but Puck's big head gets in the way.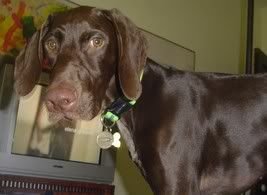 To add to my stress, I was trying to tackle Mount Washmore on Sunday night and a sock got stuck in the drain and we had a flood. Second floor laundry room flood, BAD. It flooded the laundry room floor, the family room floor and down onto the kitchen below. UGH. The worst part is that it got into the cat litter box! EWWWWWWWW. So I cleaned up what I needed to. I still have to wash the floor in the laundry room, but that can wait until I'm 100%.
Monday afternoon, I noticed that my phone isn't working. I can dial out, but nobody can dial in. Annoying. I try a few times to get through to the phone company. Finally I talk to a lady who tells me that due to a strike, it may take a week before somebody can fix my line. In the meantime they forward all my calls to my cellphone. As in the one that charges me by the minute. I want to get my calls, so I just bear with it.
On Wednesday, a man shows up to fix our line. He looks at our wires outside and the first thing he asks me is if there is a jack attached to the wire that goes up to the back of the house and could there be any damage to that jack because it seems to be shorted out. Umm, yeah there is an outlet in the laundry room...uhh a flood...oh my, yes, yes. Well, it will be an extra charge of $85 for him to come into my house and disconnect that outlet. I think that I can manage a screwdriver thanks.
I saw my
hairstylist
on Thursday. I am embarrassed to say that it had been 10 months since I last had him do my hair. 10 months! It was in awful shape. He cut off 5 inches and had his girls straighten it. The man is a miracle worker. I have the thickest, frizziest hair in the world and he makes it seem smooth and silky and manageable. He wants me to come back next week for another complimentary straightening. Cool.

I saw the doctor on Friday. I'm doing much better, but she reminded me that it takes 4-6 weeks to get over pneumonia and that I still needed to take it easy. I am not able to overdo things without suffering for it with fatigue, body aches and nausea. Kira started breastfeeding again and she seems greatly relieved.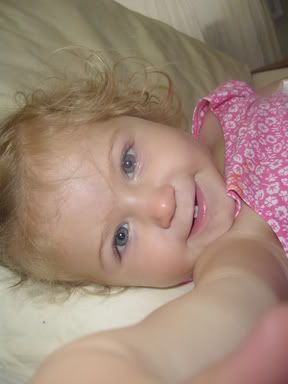 I had a pedicure today. I had to postpone it when I was sick. Not crazy about the colour of my toes, but it is nice to have human feet again.