Friday, November 03, 2006
So I saw my OB on Wednesday. First I grabbed a sure-fire labour starter, Locke Street Bagel's famous BLT. The OB did an internal exam and started laughing. It wasn't the fact that I was still only 1cm dilated that was so funny, no it was the fact that my cervix was still so thick and firm that was giving her the giggles. HA HA HA. Apparently the sandwich hadn't helped much, but at least it was yummy.

She booked me for a biophysical profile for Monday morning. If there is a problem with that, I will be induced immediately, otherwise, I will be induced on Wednesday November 8th, which is 10 days after my due date.

So yesterday, Kira and I spent the morning washing the bathroom floor grout with toothbrushes. But still nothing. That's okay says Damon.

The other night, he was getting ready for bed and wanted to just wear his boxers. I said, "well you'll feel pretty goofy when I go into labour in the middle of the night and we are dropping you off at Reiko's house in your boxers."

He said, "When you had Kira, you drove us to Grandma's house and you weren't all crazy in labour or anything." LOL

I said, "That's because I was being induced for Kira, I had an appointment for them to start labour for me, I wasn't in labour."

He said, "Well do that again then, I don't feel like rushing around and having to leave the house in the middle of the night."
Thursday, November 02, 2006
Kira as Cinderella, decided that she'd rather watch "Max & Ruby" than go trick or treating. "No, stay home!"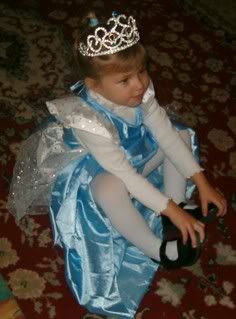 Count Campbellula has a "bite" to eat before he goes out with his friends.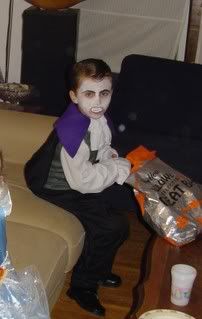 Damon is ready to go!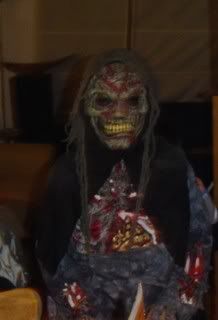 Patrick was a gaucho, looking oh, so south american with his blonde hair and pasty white skin.
Monday, October 30, 2006
At the end of an evening of bear watching, there's no better destination than
Young's
. The kids LOVE this place almost as much as the cottage. They save up their allowance for weeks to go on a shopping spree here. They sell great summer sausage, ice cream cones, gob-stoppers as big as tennis balls and pickles from a barrel. They also sell fishing gear, moccasins and way overpriced t-shirts. See you next summer Henrietta.