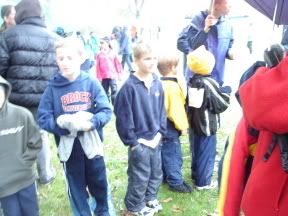 Before the race, he was so nervous, it was terribly cute.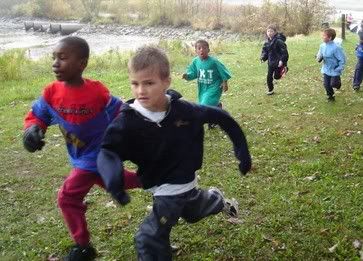 The kid next to him had pushed him down earlier and he got back up and caught up to him. Go Damon.
He ended up finishing 7th and he was crying by the time we got to him at the finish line. He was upset because he thought he could have done better if he wasn't pushed. His buddy and hockey teammate came in first and another friend was 4th! After he thought about it more, he was pretty proud of himself and his friends.
It was so cute though, when his friend came out of the finish line (like a queue), with the utmost admiration, he says to us, "Now I am like PATRICK." Later I overheard him telling a group of admirers how he followed the leader until the homestretch "just like Patrick". Patrick is the stuff of legends at our school.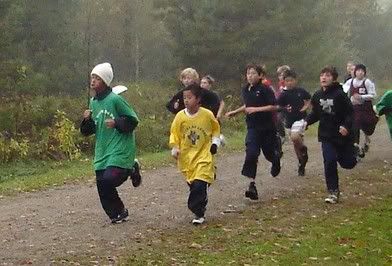 Here is Patrick shortly after the start of the race. He was about 12th, exactly where he wants to be at this point. Remember he just moved up to this grade 5/6 age group. So he is one of the younger kids.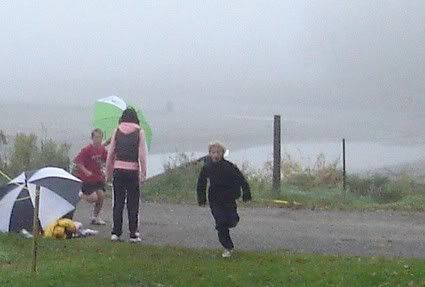 Now he is about 300 metres from the end of the race. He just finished passing the boy in the red who had the lead before the bridge.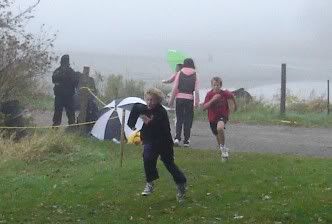 The boy in red is trying to pass him.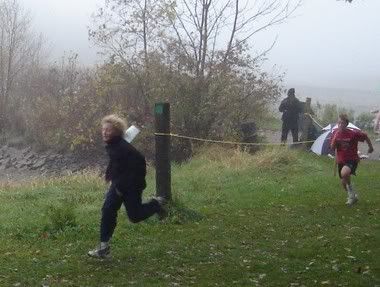 He manages to hang onto his lead for now, but right before the finish line the boy catches him and won it by a hair. Patrick isn't disappointed though. They shook hands and congratulated each other.
We are so proud of both of our runners! Didn't they do an awesome job!?