Tuesday, April 11, 2006
September 22nd, 1942 - April 11th, 2006
Sharon was a Teacher, Artist, Activist, World Traveler, Explorer, Puff Ball Hunter, Dreamer, Daughter, Aunt, Friend and Inspiration to all of her family and those that knew her.
I have always felt a special connection to my Aunt Sharon. I learned so much from my aunt. I think many of the choices I have made in my life were influenced by the experiences and times we had shared together.
Sharon and I shared countless memories. Some of my fondest memories are as follows: travelling to both the East and West Coast on summer vacation; staying in Ottawa with Sharon and Gerry; the many trips to the CNE and food pavillion, dinner at restaurants in Toronto where Sharon often could not decide what she wanted to eat so she would order several dishes that we would all enjoy;
walking through fields looking for Puff Balls; taffy at the Highland Games; fireworks at the Beach; drawing pictures on the floor; building a pink and blue castle in the backyard at my parents' house; taking photographs at the dinner table; spending time at the cottage in Wawa; and of course, building The UP-SHACK with Andrea, Kent and Barclay.
Last summer, under Sharon's supervision, I got a chance to build the UP-SHACK 2 with my kids. I was able pass down some of the same memories to them that I shared with Sharon after building the first one. This summer the kids and I will gather the materials and build a wing in her honor.
Sharon with Patrick and Damon - Wawa 2002
Sharon, thank you for everything you gave us. We will miss you forever and never forget you.
Turtle Island Sunset - Wawa 2005
Monday, April 10, 2006
Today is my little man's 6th birthday. Campbell is a fun and quirky guy. He is a diligent hard worker with an upbeat attitude. He is very eager to learn. We all love him a lot and hope his birthday is a special one.
I took him and his best buddy out for lunch at their FAVOURITE restaurant.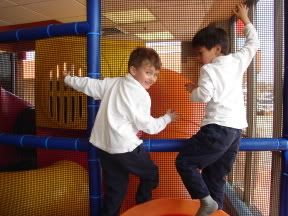 Then they played before going back to school for the afternoon. Tonight we will have a quick dinner before Patrick's tryouts and then we'll have cake when Patrick gets home.