I'm sorry, we took a bit of a "blog vacation" here. I'm full of excuses. We've been busy with hockey, I've been tired with this pregnancy, we've been sick - take your pick.
No sooner did the kids start school than the germs started coming home. Patrick brought home a nasty virus that hit him pretty hard. It caused his asthma to flare up and it was at least a week before he was at full capacity again. I got it and it took me 3 weeks. I can't explain how horrible it was. Only a pregnant asthmatic lady with a respiratory infection could appreciate the pain of pulling muscles in your uterus while you are coughing up a lung.
In the meantime....
Hockey season began. Patrick's team has already played several regular season games. They are in a tournament this weekend and had their first win last night! This is the team that won ONE game all last year. This year, with the addition of a few players, the team doesn't look outsized anymore and even when they lose a game, they aren't being outplayed the way they were in the past. The coaches are fantastic, and have a knack for turning troubled teams around. We think that all of the kids on the team are going to gain a lot from them this year.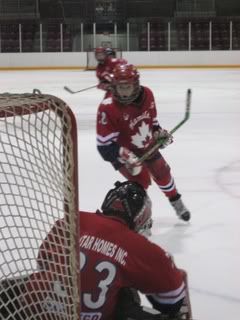 Damon has made amazing progress at his practices. We were a bit concerned when he was chosen for this team. He had size, determination and toughness going for him, but his skating was not as strong as some of the other players who were chosen. With a new pair of skates, some confidence and a few practices, his skating has improved by leaps and bounds (or maybe that should be quick stops and turns).
School has been a bit trying for Damon. His teacher is brand new and a little too focused on results to remember that her students are living breathing children. After speaking to some dyslexia experts, we've decided to try pulling him out of French Immersion. We've also found that the public school system doesn't "get" dyslexia, so we are going to get him help for that privately with people who deal with dyslexia instead of going through the school system where they want to treat it as a learning disability rather than a learning style.
Campbell is dying for his season to begin. "How many days?" Only 7 more! He does well in school, especially math. Kira, Puck and I miss him though.
Kira is growing up very fast. She can't wait for Baby Hanna to get here.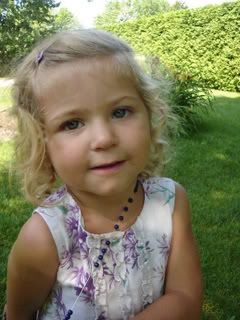 Puck is good. He is growing out of the puppy stage. We are able to trust him loose in the house when we are out and he doesn't chew anything or get into any trouble. Oh, wait, I should correct myself. He does get into trouble for turning on the tap in the upstairs bathroom. He never turns it off, and we had a problem with the faucet leaking from underneath if it was left running. Matt fixed it, and we are really trying to keep him from drinking from the sink. He is so picky though, and doesn't like sitting water, he prefers running water. *sigh* Here he's "playing" with the neighbour's kitten.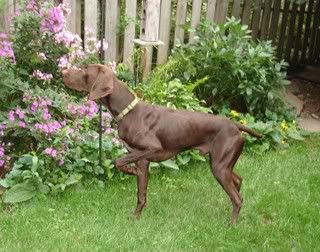 Talk at Matt's work has been about possibly moving the company 2 or more hours away from here. They have put an offer in on a building in a small town surrounded by farm land. While we wait for a definitive answer, we've been spending all of our online time looking longingly at farms for sale on MLS.ca. Patrick has been making sure that there is a AAA hockey team, a track club and a rowing club. All looks good there. Damon has been looking at animal shelters for that perfect farm dog/goat/llama. Campbell just dreams about getting an ATV. With lots of encouragement from Damon, Kira has already put in her request for a pony.
And last, but not least, I can't believe how fast this pregnancy is going by. Baby Hanna is going to be here in no time. Here's a photo of me a few weeks ago.