I was booked for an induction on Wednesday. The hospital called me at 6:45 and asked me to be there for 9:30 to start the indution. HA! We got there and as we were sitting there waiting for the nurse to take us to our room, 3 labouring women walked in and another woman at 36 weeks pregnant was sent over from the ER because she was vomitting blood and screaming in pain. And then it got worse. There was a twin delivery, another woman had gone a day with ruptured membranes, and so on. So at 11:30 they decided that they needed to focus on these people and they sent us home. They said that if we hadn't heard anything, to call at 4 and see if things had quieted down enough. DH and I are pretty understanding people though.
At 4 they were still busy, they said to call at 7:30. At 7:30 they were still busy and said they would call us at 8:30. They did and asked us to come in at 10 pm for an induction!
They were ready to start the induction at 10:30. The resident doctor tried to break my water, but said that she was afraid of hurting the baby because the membranes were pulled so tightly across her head. My OB stepped in and tried to create a pocket, but had no luck. I was extremely uncomfortable at this point and blurted out that "I feel like a hand puppet." The doctor said that she was going to be remembering that comment for a while. She said my membranes were incredibly tough. I was still only 2 cms. So she had the nurse try to start an IV, but my veins kept rolling away. I had blown veins all over my hand. At this point I'm ready to cry because nothing has gone right. They called in another nurse from the IV team to do it.
Because they needed to monitor me for the first 1/2 hour of syntocin, I lay down and went to sleep. Matt and I both slept on and off until about 3:30. The nurse came to check me periodically throughout and turn up the syntocin. At 3:30 am I started feeling my contractions and woke up. They were 1 minute long, every 2 minutes. I breathed through them for 1/2 hour before asking the nurse if I could be checked for dilation. The resident said I was 4 cm and baby's head was still sideways, which was discouraging to me. I was doing my meditative breathing but because I was having back labour I was not able to relax my bottom. So at that point, I made the decision to have the epidural. The anaesthetist arrived at 4:30 and even the epidural didn't go smoothly! It was the most painful epidural of the 4 I've had, and it was not a "walking epidural", and by 5 am, I was totally numb and shivering. DH and I went back to sleep, and at about 5:45 I mentioned to the nurse that I was feeling tremendous pressure in my bottom. The resident checked me and couldn't find my cervix, I was complete, but so numb that I had no urge to push. I waited another 10 minutes to start pushing, but even then I still didn't "feel it". Finally I felt the urge and 2 pushes later, her head was out. My OB had a bit of a problem with her shoulders and was trying to avoid a tear, so I wasn't able to push. Finally Hanna Katherine wiggled her way out at 6:06 am, and the doctor's efforts were in vain and I needed 1 stitch. So Hanna Katherine was born on November 9th, at 6:06 am. She was 21 inches long and she weighed 8 lbs 9 oz, but she's dainty, I don't know where she hides it!
Once we got to the maternity ward, the nurses asked us if we would pose for photos with the staff for a brochure. They figured that we were experienced enough that throwing a photo shoot into our birth experience wouldn't phase us. LOL Anyway, we got this sweet photo from the hospital's promotional photographer.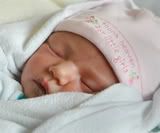 The kids came to visit and they were all thrilled with their new sister, even Kira. She is enjoying being home with her new sister, her daddy and her mommy. I can't wait for the boys to get home so we can have some family time. This is the first baby born since we got Puck and he was terrified of Hanna. It was kind of funny to watch our 70 lb dog jump back 6 feet in fear when our 8 lb baby unclenched her fist. It took him a few minutes of sniffing her, and now he's accepted her as one of the family.