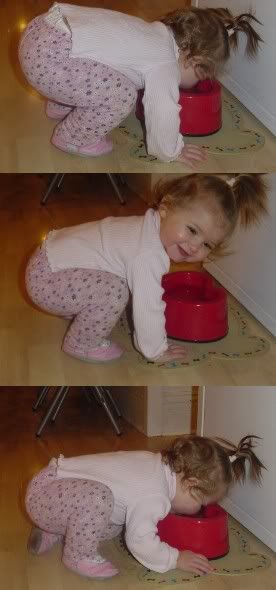 I have to let you all know that bowl had just been cleaned and was filled with fresh water. Campbell taught her that yesterday, and every 5 minutes today, she was having a sip. LOL In the last picture she is getting comfy because she lapped up the whole bowl there.
My cat caught a mouse today, I thought about taking a picture for my blog, but mice just creep me out way too much. I don't like picking them up and since Matt wasn't here and I didn't want to ask Damon unless I had to. I opened the front door and we chased the cat out to enjoy his prize on the neighbour's driveway. :-D He came in with Matt and has been strutting his stuff all night.
Patrick is still sick. His asthma is bad, even on his puffers. He has a fever and his tummy isn't feeling great either. I think I will take him to the doctor's tomorrow when Damon and Campbell are at school. He even missed a hockey game tonight. He wants to get better though, because he has his last 3 regular season games this Friday, Saturday and Sunday.
Damon woke up in the night with a stomach ache, so I let him stay home. I don't think he was really sick. I did manage to get him to let me cut his hair. It isn't a good haircut because he had a lot of rules (no clippers, no brushes, only a certain comb) and he kept resisting. UGH. Anyway, he hates his haircut and I am mean for giving it to him. *sigh* I'll try to sneak a picture of it when he is sleeping, but I think it is a drastic improvement.