Saturday was a crazy blizzard day. We got more than a foot of snow and really strong winds were blowing it all around. It was the result of an "Alberta Clipper". They cancelled everything in our city, including hockey. That was nice because Matt was away at the tournament with Patrick and I was going to have to take Damon and Campbell to their hockey practices with Kira. They EVEN had to close the mountain accesses because the visibility was so low that the plows and salt trucks couldn't see well enough. I say that with amazement, because those mountain accesses are a lifeline for us here and are always the top priority for snow removal. Hey it could be worse, the same storm dumped more than 2 feet on my brother in
Halifax
on top of what was already there from 2 previous storms.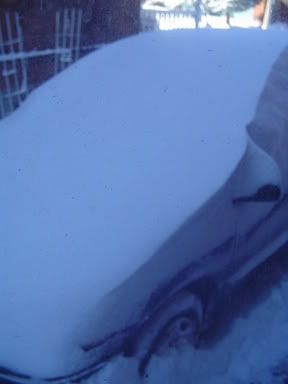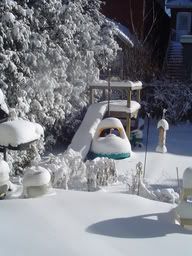 My van and my backyard.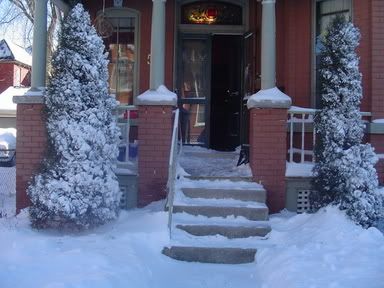 My front porch.
Now Kathy, THAT is a snow day! LOL At this point I'd trade you though.
As I said, Matt took Patrick to his hockey tournament. Even though our hockey was cancelled, they couldn't do that at the tournament, because they had 120 hockey teams from Canada and the U.S. waiting for their games! They won their morning game 2-1. That put them into the semi-finals where they lost to one of their regular season rivals, Waterloo. Waterloo went on to win the whole tournament. Patrick played some excellent hockey though. He's developed a lot as a player this season.
It was a beautiful day outside today. We dug out and then went off to my mom's to celebrate Damon and my sister Lianne's birthdays. Damon turned 7 and Lianne was 21.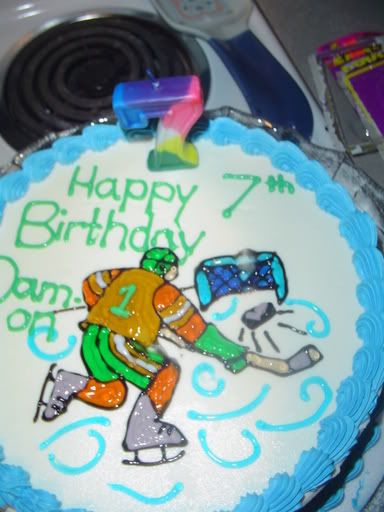 I'm a dork, I ran out of room for his name! LOL The first thing he noticed was his number, #1 on the player's jersey.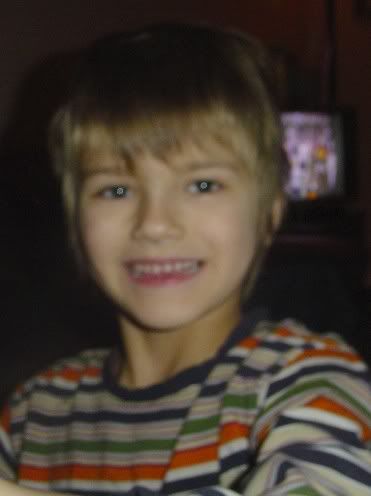 Damon was thrilled with his Gameboy, games, helicopter and new army pants (his old pair were overly loved). He is planning to do his birthday party with his friends at the military museum where they get to try on uniforms and hold weapons from the 1800s.