The next step was the slate floor. We think it looks great. Matt and Kira are washing away the excess grout. (oops, more child-labour)


See! Isn't it pretty? I love the natural variation in colours and oooooh that will hide dirt so well! It's not that I don't want to wash these floors, I just don't want to HAVE to wash them because they look dirty. I will still be mopping once a week, but the dirt will be hidden in between.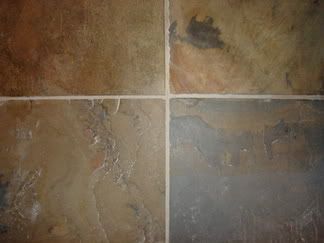 And after a little discussion with me, Matt picked the colour he likes. I think it is a shade too dark, it matches the slate well, but really closes the bathroom in. It is okay, but it ain't no buttery yellow. :-( Matt changed his mind after finishing the first coat, and he's going to go get more paint in the shade lighter. Oh and we put up our vanity light.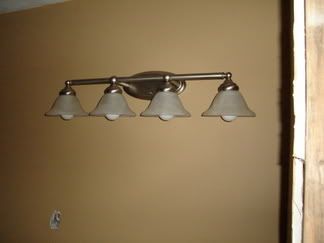 The next part is the expensive stuff, the toilet and the vanity, then on to the shower.