My sister's 3 children were all baptized 2 weeks ago. It was a great day. Matt and I had the honour of being chosen as godparents to my nephew, so our kids had to sit in the pew behind us and behave! Well they did reasonably well. Here's the face of Kirazilla showing itself again.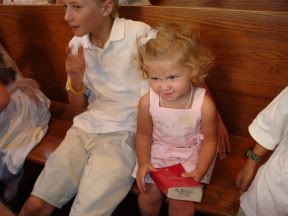 Isn't the baby adorable now? She makes my heart melt.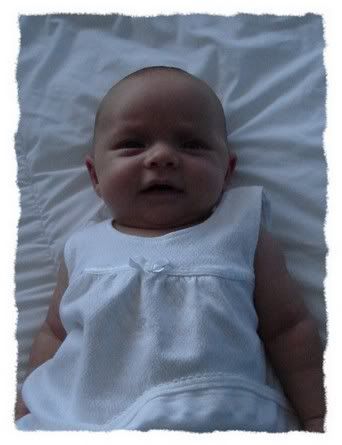 The questions that curious 3 1/2 year olds ask in church are great. "Adri, what is chrism?" "I'm not scared of being baptized, it's going to be fun like going on a roller coaster." The best was after she was done being baptized and in front of a full church she says excitedly, "That was FUN, now Campbell can have a turn."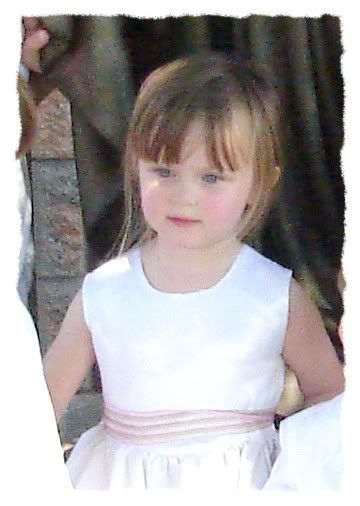 And my godson, preparing to tear off. He is a sweet boy, totally devoted to his mommy. When she is nursing the baby, he quietly leans against her, sucks his thumb and twirls her hair in his hand. Awwww.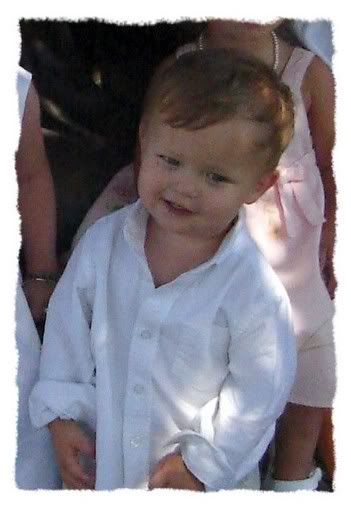 I tried really hard to get a good shot of all 4 of my creatures in their crisp clean clothes, but Damon managed to screw up every shot. This one isn't too bad though, at least you can see most of his face.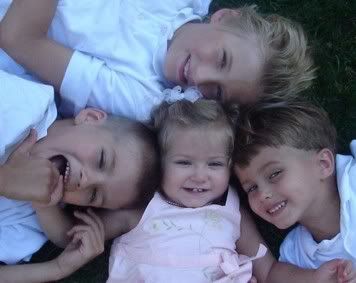 I loved this dress on Kira, the details are beautiful. And I love putting her pearls on her. She was comparing her pearls to mine, but then had a tantrum when she realized that I had pearl earrings, where were hers? Then she screams in the church, MINE! and attempts to rip mine off. Do I pierce her ears? If I did it right now, it might be a secret revenge for her mauling my ears. I'll wait.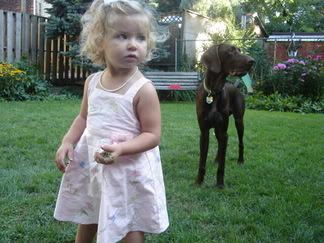 Sharing her cookie with her brother. What he doesn't know yet is that it's a dog biscuit that she stole from the dog.
Nutro Ultra Puppy biscuits. Only the best dog food for my daughter.