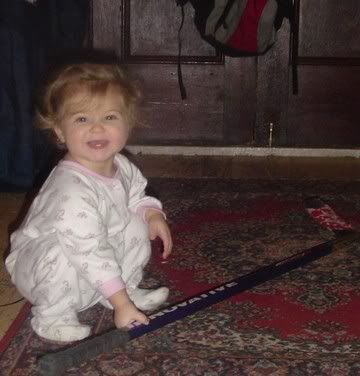 We keep catching Kira playing with her brother's hockey sticks (unfortunately, they live next to the front door), but when I tried to take a picture of her this morning, she quickly put it down and posed for the picture. She didn't want to be caught on camera playing hockey.
It has been an interesting 24 hours of phone calls.
My sister called today. Last year when we were making arrangements to have Kira baptized, I asked her if she wanted to have her children baptized at the same time as Kira, because if so, my priest would happily have a separate mass for this occasion. She sounded interested and asked her husband, he said NOO way (and a few other disparaging comments about the Catholic church). I reminded him that it opened up the option of going to a catholic school. Nope, in his town (rich suburb) ALL of the schools were good schools. Yeah, okay fine. So they need to sign my niece up for Kindergarten this month and they are doing their homework on what schools are available to them. BIL's mother tells him that Catholic school is a good idea and there is a nice one on their street, so guess what? LOL NOW he's eating his words and he wants to get them baptized. Definitely not a forward thinker. LOL I think my sister is teasing him about it now. In a way it works out for them because the baptism will be right after the birth of their third (and probably last) child and they can have all of their kids done at once.
My ex-stepmother called last night. My father's second wife is a wonderful woman who at a very young age, married my father and assumed the role of stepmom-supreme. She was really good about trying to include us, even after she had my brother and even after they split up and she remarried and had 2 more boys with her second husband. She is having a rough time right now and my heart goes out to her. She's a teacher and was injured when she fell as a result of a kid throwing a ball at her. The medical problems that resulted from that are complicated and I don't pretend to understand them all, but I do know that she will never be able to work full time again. She suffers every day and needs to take frequent rests. Then my brother married last summer, which was a joyous, but of course stressful situation for her, and then over Christmas, my brother's young bride lost her mother after a long battle with cancer, and she was trying to be there for him and his wife. Last night she dropped the bomb that her husband left her and her kids. He told her months ago that he was planning to leave and she tried to change his mind with marriage counselling but he was unco-operative. During the wedding when they sat together at the parent's table, through the big family Thanksgiving they hosted, through Christmas and then the funeral of her son's MIL, she suffered in silence. I could tell by the sound of her voice that she is devastated. She is a strong woman, but I fear that all of this may be more than she can bear. Her family lives in another province, and even my brother is a long drive away. She has always been VERY generous to me, my siblings and our children, and I really hope that now, in her time of need, I can return the favour.
Today I am grateful that I have a husband who loves me.